As Festas da Julie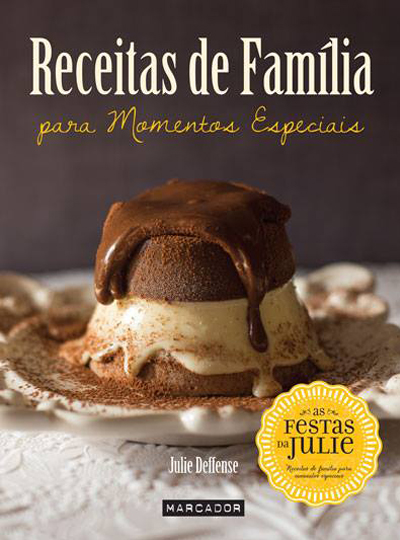 AS FESTAS DA JULIE – DOCES MOMENTOS PARA A FAMÍLIA | JULIE DEFFENSE
ISBN 978-989-8470-61-4 | P.V.P. 21,95€
EDITORA: MARCADOR
AUTORA: JULIE DEFFENSE

BUY HERE
With this book you can get inspired with the recipes - amazingly delicious - or with the suggestions for party or more personal gatherings themes.
Recipes for a movie night at home, a brunch with friends, a picnic by the sunset, an after class snack, a special birthday or make the supper at 23h59 a special event.
Knowing how to keep the most important people in our lives is wonderful. Adding new friendships is even better. But it's not easy. Captivating them, knowing them and giving them affection. For such we need to be with each other.
The best recipes for unforgettable parties
Lemon Scones | Crunchy Parmesan | Passion Fruit Cupcakes | Red Velvet Cheesecake | Oven Cereals with Plum Jam | Zucchini Salad | Sun made Tea | Caramel Apple | Iced Tea | Onion, Dried Tomato and Olives Pie | Grilled Banana with Chocolate | Apple Caipiroska | Mexican Bowl | Raspberry and Chocolate Cake | Brie and Chutney Puff | Crunchy Caramel Brownies | Spicy Cornbread
The Author
Julie Deffense
Julie Deffense was born in the United States in 1973 and lives in Portugal since 1998 with her husband Jacques. She has 33 nieces and nephews, four dogs and two cats. Studied graphic design and worked in advertising, but it is in the kitchen baking cakes that she feels at home. She perfected her techniques in Wilton School and has done several workshops in Cake design. She believes that anyone can make amazing cakes if they want to. All you need to do is follow her recipes: a good cookbook, good kitchen utensils, lots of friends (for test subjects) and a washing machine (XXL size). The kitchen is her most cozy place of the house - built after her childhood home kitchen - where she reproduces the flavors of her home town, to which she adds some very Portuguese flavors.

Book in Portuguese.
2018 REVISTA DE PROPRIEDADES PORTUGUESAS, LDA, JULIE'S CAKES, THEGREATAMERICANCAKE.COM ALL RIGHTS RESERVED
PRIVACY POLICY / TERMS & CONDITIONS